Sep 12, 2023
AesirX dApp's Creator Tool: A Game-Changer for Decentralized Marketing with Privacy and Data Protection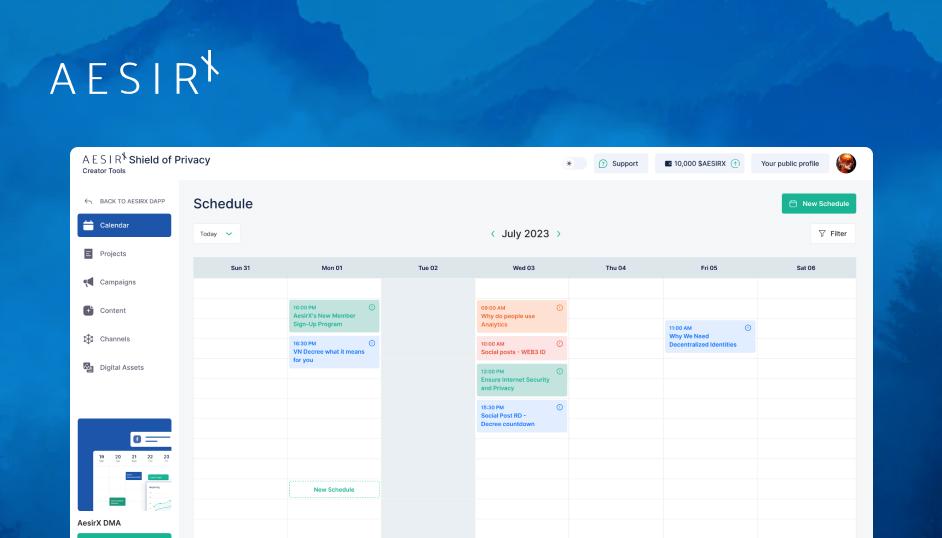 Online marketing is a powerful tool for businesses to reach and engage their customers, but it also comes with a number of challenges and risks. Privacy and data protection are two of the most pressing issues that online marketers face today, as they must balance the needs of their customers with the demands of their platforms.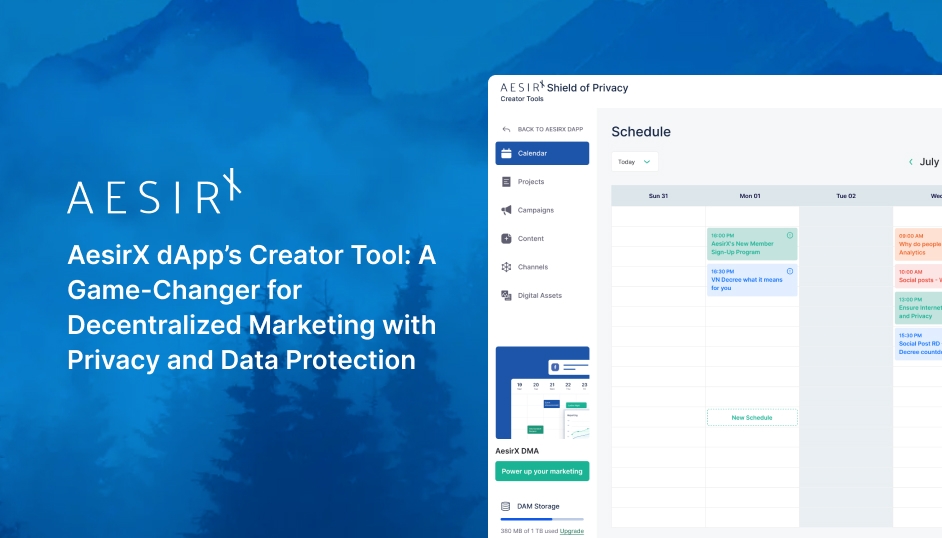 Customers are becoming more aware and concerned about how their personal data is collected, used, and shared by online platforms, and they are demanding more control and transparency over their data. Platforms, on the other hand, are imposing more restrictions and regulations on how marketers can access and use customer data, and they are taking a larger share of the revenue generated by online marketing.
How can online marketers overcome these challenges and risks in order to create effective and ethical marketing campaigns that respect their customers' privacy and data rights?
The solution is decentralized marketing.
What is decentralized marketing, and why is it important?
Decentralized marketing is a new online marketing paradigm that uses the power of blockchain technology to create a more transparent, equitable, and efficient marketing ecosystem. Decentralized marketing enables marketers to communicate directly with their customers without the use of intermediaries or platforms, which can jeopardize privacy and data security.
The AesirX Shield of Privacy powered by Concordium Web3 ID technology is at the heart of AesirX dApp's Creator Tool (see below) - an essential key that unlocks the potential of decentralized marketing. This Web3 ID not only grants access to the Creator Tool, but it also serves as proof of the security, privacy, and ownership principles.
Decentralization is no longer just a technological concept; it's a philosophy that's changing how we approach marketing. It can help marketers achieve their marketing goals and grow their business, while respecting the privacy and data rights of their customers.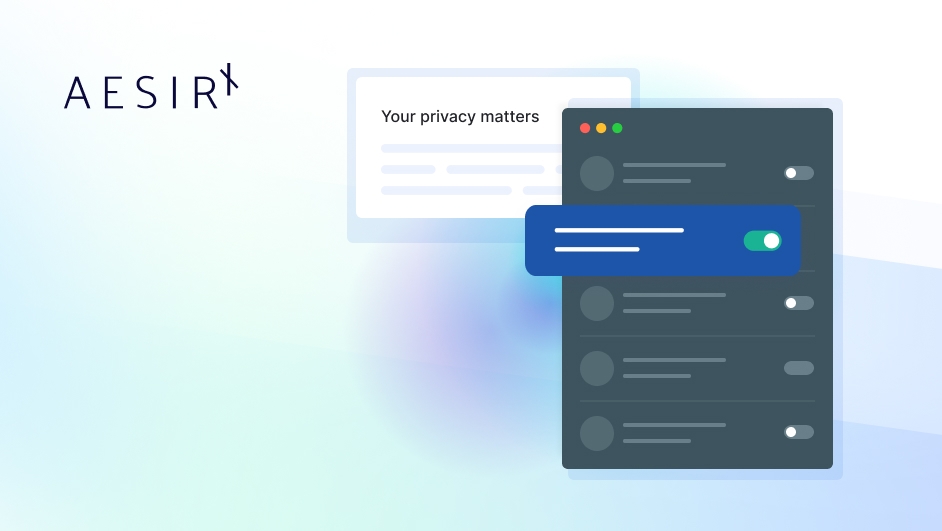 Decentralized marketing uses the power of blockchain to improve security and marketing practices
How AesirX dApp aims to revolutionize online marketing with privacy and data protection
AesirX dApp is a decentralized application that allows users to protect their online identity and data while also gaining access to a variety of privacy-centric solutions. The AesirX dApp is built on the Concordium blockchain, which provides a secure, transparent, and decentralized platform for online marketing. 
The Creator Tool, one of AesirX dApp's features, is a powerful and simple-to-use tool for marketers to create, store, schedule, automate, and streamline their marketing campaigns while maintaining privacy and data security. Your journey begins with a simple yet powerful act: using your AesirX Shield of Privacy to unlock unprecedented possibilities.
How to get your AesirX Shield Of Privacy and access the Creator Tool
To use the Creator Tool, you must have an AesirX Shield Of Privacy with the integration of Concordium Web3 ID technology. This is a unique identifier that grants you access to the Creator Tool as well as other features and benefits of AesirX dApp. The AesirX Shield Of Privacy is a non-fungible token (NFT) that represents your privacy and data rights on the blockchain.
To get your AesirX Shield Of Privacy powered by Concordium Web3 ID technology, you need to follow these steps:
Visit AesirX dApp site and click on "Sign up"
Fill in the required information to create an account
Check your email to complete your registration for AesirX Shield of Privacy: 

Connect your Concordium wallet
Create your interest
Mint your Shield of Privacy NFT with an avatar
Consent to data access
Congratulations! You have successfully obtained your AesirX Shield of Privacy with Concordium Web3 ID technology integration. 
You can now access the Creator Tool by using your Shield Of Privacy. You can also earn $AESIRX tokens through community programs and use them to purchase AesirX licenses to access its marketing solutions (beginning in Q3 2023).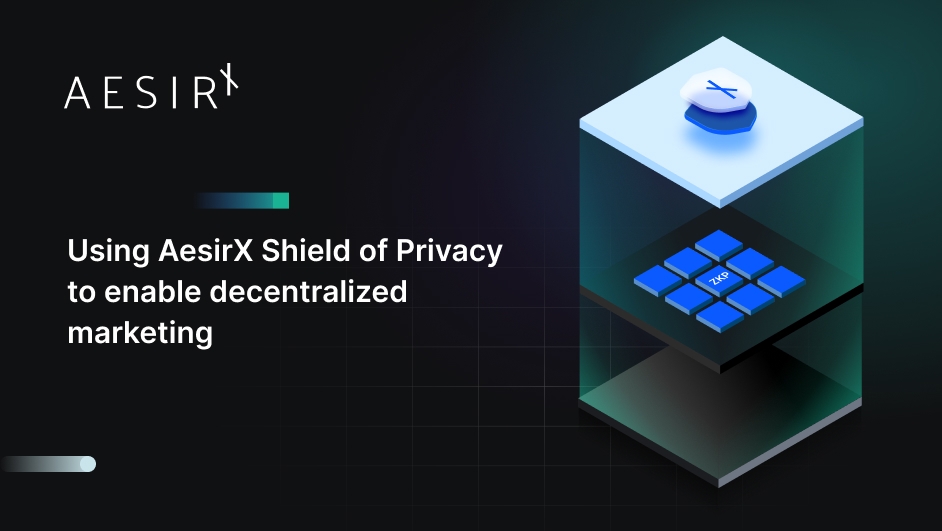 Using AesirX Shield of Privacy, with Concordium Web3 ID technology integration to enable decentralized marketing
Enabling decentralized marketing with AesirX Creator Tool
AesirX Creator Tool is an easy-to-use tool that allows you to streamline all of your marketing efforts into a single, powerful location while maintaining privacy and data security. You can use the Creator Tool to create, store, schedule and deliver multiple types of campaigns at the same time.
→ Effortless campaign management
The AesirX Creator Tool gives marketers a streamlined approach to campaign management. Marketers can easily plan, organize, and track their marketing campaigns using its unified calendar and dashboard. This level of organization ensures that campaigns run smoothly and efficiently, maximizing efficiency and impact.
→ AI-assistant content creation
Marketers can use the AesirX Creator Tool to harness the power of AI-assisted content creation. By incorporating the ChatGPT AI assistant, the tool transforms into a creative partner, suggesting innovative content ideas, refining messaging, and optimizing content strategies. This collaborative approach expedites content creation while maintaining authenticity.
→Secure digital asset management
The Creator Tool includes the Digital Asset Marketing (DAM) feature, which provides marketers with a safe and organized repository for their creative assets. Images, videos, and other assets are centrally stored, allowing for easy access and reducing the risk of data loss.
→ Multi-platform publishing precision
The AesirX Creator Tool allows marketers to achieve multi-platform publishing precision. Campaigns can be scheduled and published simultaneously across multiple channels, including email, social media, CMS, advertising, publishing platforms and others, by enabling efficient cross-channel posting. 
→ Automated social media marketing
With the ability to automate posts across five channels (Facebook, LinkedIn, Twitter, Instagram, Telegram) marketers can maintain a consistent online presence without the need for constant manual intervention. This automation ensures that campaigns are delivered to the appropriate audience at the appropriate time.
→ Efficiency and time savings
With the Creator Tool's automation features, marketers save a significant amount of time. Routine tasks, such as posting schedules and campaign management, are automated, freeing up time for marketers to devote to strategic planning and creative endeavors. This increase in efficiency raises overall productivity.
→ Data ownership and privacy
The AesirX Creator Tool is built with data ownership and privacy in mind. The incorporation of Web3 principles ensures that marketers have control over their data and that customer privacy is respected. This commitment to data protection aligns with modern ethical standards and builds trust with customers.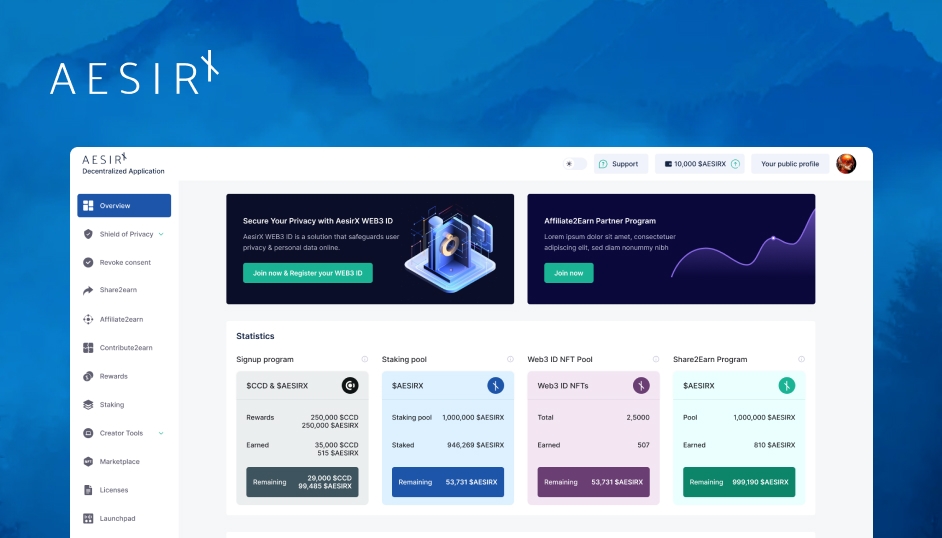 AesirX dApp enables a decentralized marketing ecosystem
How to create, store, schedule, and automate your campaigns using the Creator Tool
To create a decentralized marketing campaign with the Creator Tool, follow these steps:
Log in to the Creator Tool using your AesirX Shield Of Privacy.
Click on "Channels" to connect and enable your marketing channels.
To create your posts, go to "Posts" and click on "Create Post".
Fill in the required details for your campaign, such as Project, Campaign, Headline and Content Description. 
Turn on "Advanced Mode" to view and edit posts from various channels.
Choose Digital Asset Management to upload your digital assets such as video and images.
Click "Next" to schedule or deliver the post now.
You can view and manage your campaign on the Creator Tool dashboard. You can also edit, pause, resume, or cancel your campaign at any time.
Empowerment through decentralized marketing
AesirX dApp's Creator Tool is a game changer for online marketers who want to leverage the benefits of decentralized marketing while maintaining privacy and data security. When you use the AesirX dApp Creator Tool, you're not just getting a tool; you're getting empowerment. The Creator Tool is the link between simplicity and efficiency. It is the channel through which privacy, security, and trust enter your marketing efforts.
With the AesirX dApp Creator Tool and the guiding light of the AesirX Shield Of Privacy, you enter the future of marketing, where empowerment and innovation converge to reshape the possibilities of creativity and impact.
Visit https://dapp.shield.aesirx.io/ to gain access to more benefits and
opportunities in AesirX feature-rich dApp!