Aug 15, 2023
Tap into Your Digital Potential with AesirX Shield of Privacy: Join the Community Share2Earn Program
Do you want to protect your online identity and data while also earning rewards and incentives? If so, AesirX Shield of Privacy, a revolutionary solution that allows you to take control of your digital presence and participate in the Community Share2Earn Program, may be of interest to you. In this blog post, we will look at how creating a Web3 ID and enrolling in this program can help you realize your full digital potential.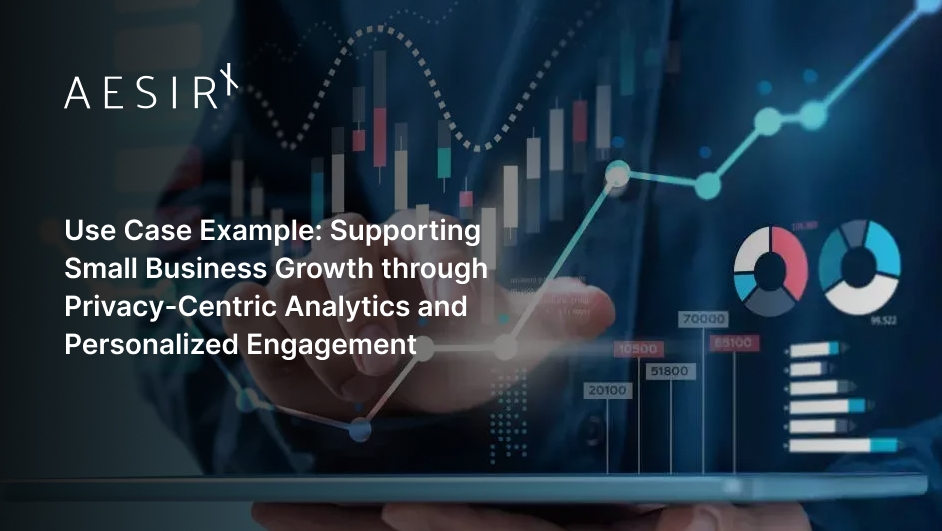 Introducing AesirX Shield of Privacy
AesirX Shield of Privacy is a tool that protects your real identity in the digital world. It's similar to putting on a digital mask when surfing the web. It's a one-of-a-kind identifier that allows you to interact with websites and online platforms without revealing your personal information.
AesirX Shield of Privacy is a blockchain-based solution that uses Concordium's unique zero Knowledge ID technology to provide a privacy-first solution for gathering and analyzing cross-chain data. This means that your data is encrypted and stored on a decentralized network that no one can access unless you give them permission.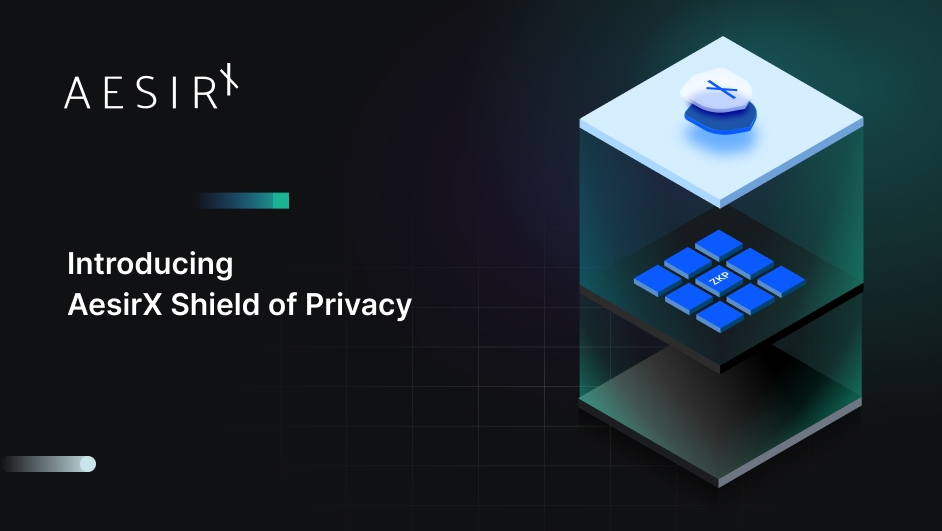 The Benefits of AesirX Shield of Privacy
By creating a Web3 ID with AesirX, you gain access to numerous benefits that improve your online experience and increase your security. Here are a few advantages:
AesirX Shield of Privacy prioritizes the privacy and security of your personal information. Your data is encrypted and under your control, protecting you from unauthorized access and data breaches. With AesirX Shield of Privacy, you can navigate the online world with confidence, knowing that your identity is safe.
AesirX Shield of Privacy allows you to remain anonymous while reaping the benefits of online interaction. You have complete control over your digital footprint, deciding what information to share and with whom. This ensures a truly private online experience, free of invasive tracking and unwanted advertisements. 
Decentralized Model and Consent
AesirX Shield of Privacy operates on a decentralized model, eliminating the risks associated with a central database. Your personal information is distributed across a network of nodes, which improves security and privacy. Furthermore, you have the authority to grant or revoke consent for the use of your data. This decentralized approach and consent mechanism gives you more control over your information.
Anonymity on Age-Restricted Sites
AesirX Shield of Privacy extends anonymity even to age-restricted sites. For example, when accessing an online platform that requires age verification, such as an adult content website, you can use your AesirX Shield of Privacy to verify your age without revealing personally identifiable details. This maintains your anonymity while adhering to platform rules.
One of the most exciting aspects of AesirX Shield of Privacy is the Community Share2Earn Program. By actively participating in the AesirX community, you become eligible to earn rewards and financial incentives. As the ecosystem grows and thrives, the value of your participation rises, presenting potential long-term financial benefits.
Collaboration in the Community
Joining the AesirX community entails becoming a part of a larger movement. Connect with like-minded individuals, developers, and privacy advocates who share a vision of an online world that is decentralized and privacy-centric. Together, we're shaping a more equitable internet future. Users privately verify their age and residency, benefiting age-restricted platforms, gaming, streaming, e-commerce, and creating a safer world for youth.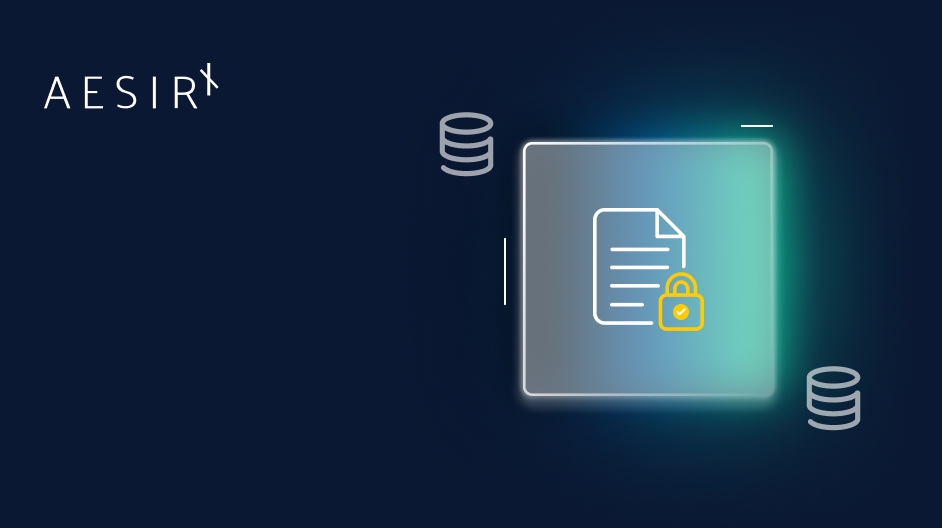 How to Join the Community Share2Earn Program
The Community Share2Earn Program is intended to reward users for their contributions to the AesirX ecosystem. There are several necessary steps to participate in the program:
1. Create a Web3 ID
The first step is to create your own AesirX Shield of Privacy. This will grant you access to the platform's various features and benefits, such as anonymity and control, secure multiple logins at once and data analytics. 
You can register for AesirX Shield of Privacy HERE. Skip this step if you already have an account. 
2. Refer friends and colleagues  
The second step is to invite others to join the AesirX community by creating their own Web3 IDs. You can share your unique referral link with your friends, colleagues, family, or social media followers. You will earn a commission based on their activity level for each successful referral. 
Log in with your AesirX Shield of Privacy to get your Share2Earn link HERE.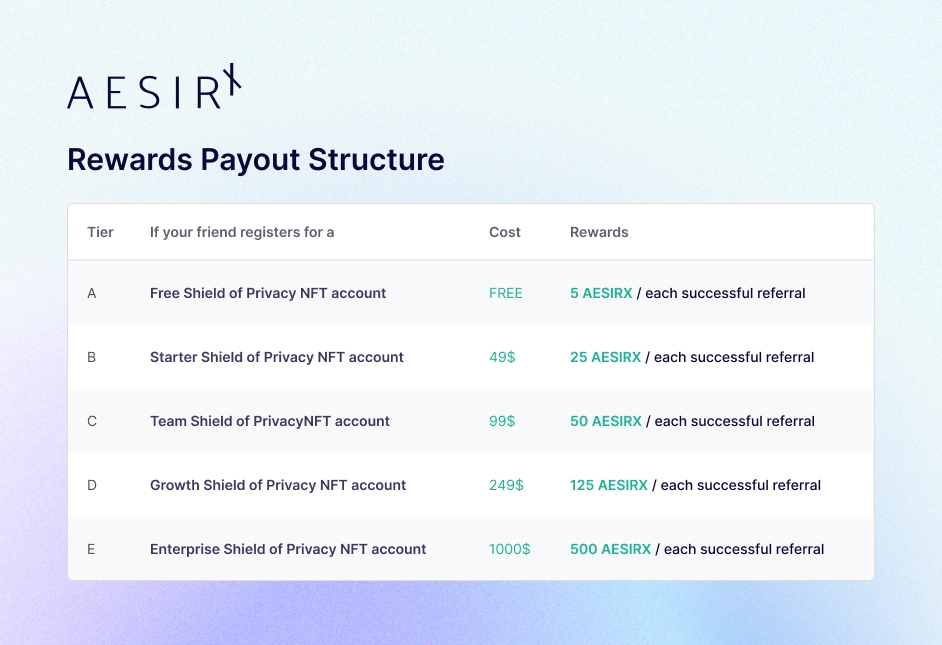 3. Engage with content
The third step is to interact with content on the AesirX platform or other partner platforms that support AesirX Shield of Privacy. You can like, comment on, share, or create content that interests you or aligns with your values. This is to stay up to date on new programs and rewards, as well as to earn tokens as part of the Share2Earn Community Program. 
The more you participate in the Community Share2Earn Program, the more benefits you will receive. You can monitor your progress and earnings on your dashboard or wallet. 
Creating an AesirX Shield of Privacy opens up a world of possibilities. Accept the power of privacy, control, and financial potential. Join our community, earn rewards, and help us build a more secure and privacy-focused digital ecosystem.
Are you interested in taking part in the AesirX Shield of Privacy Community
Share2Earn Program? 
Visit https://dapp.shield.aesirx.io/share2earn to protect your digital identity
while also earning passive income.