Jul 03, 2023
New Member Sign-Up Program: How to Protect Your Online Identity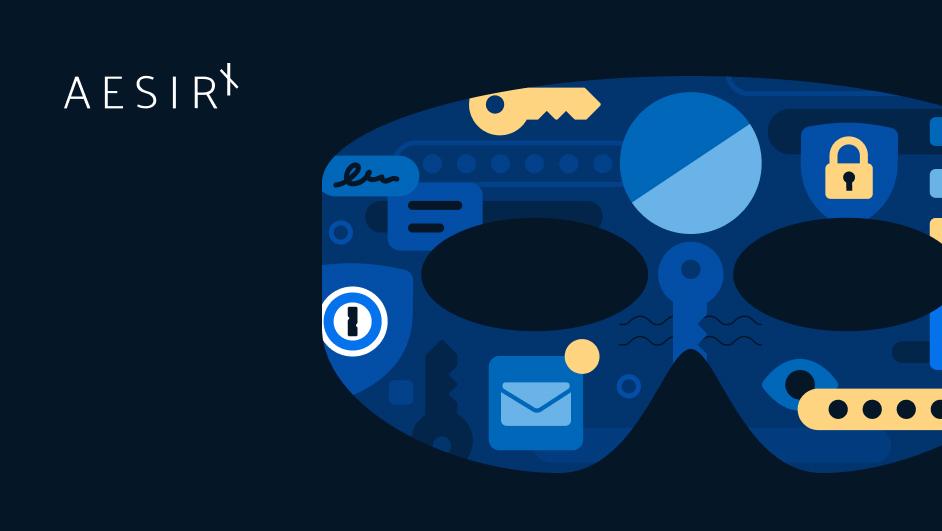 Ensuring the protection of our online identity should be considered essential, but unfortunately, many individuals fail to go beyond the creation of weak passwords. However, what if there existed a method to safeguard your online identity while also gaining exclusive benefits?
Introducing AesirX's New Member Sign-Up Program, which precisely accomplishes that. Get ready to secure your online identity, receive a free NFT, earn special tokens, and unlock a plethora of exciting rewards.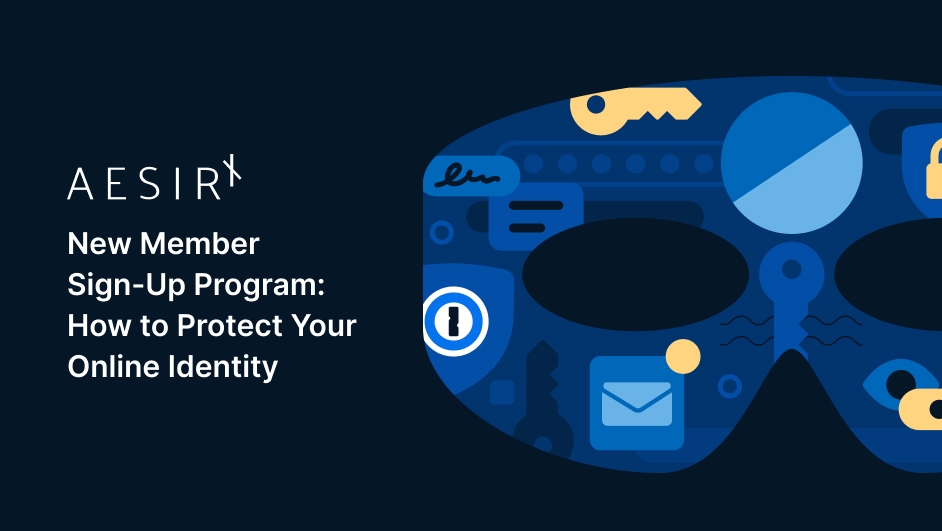 Introduction: Why Protect Your Online Identity
Your online identity includes personal information, financial data, and digital activities, all of which are vulnerable to cyber threats. Protecting your online identity helps to prevent identity theft, data breaches, and unauthorized access to your sensitive information. 
AesirX Shield of Privacy is a powerful tool that keeps your personal data safe and protects your privacy on the internet.
It combines several unique privacy-enhancing technologies - utilizing the power of: 
Concordium's zero-knowledge blockchain technology for decentralized consent. Users can manage & selectively share or revoke their personal data.
AesirX SSO (Single Sign On) simplifies access management & authentication. Users "1-click consent" to use their data to create more meaningful experiences.
AesirX Analytics collects & stores first-party data to provide cookie-free analytics that comply with privacy standards.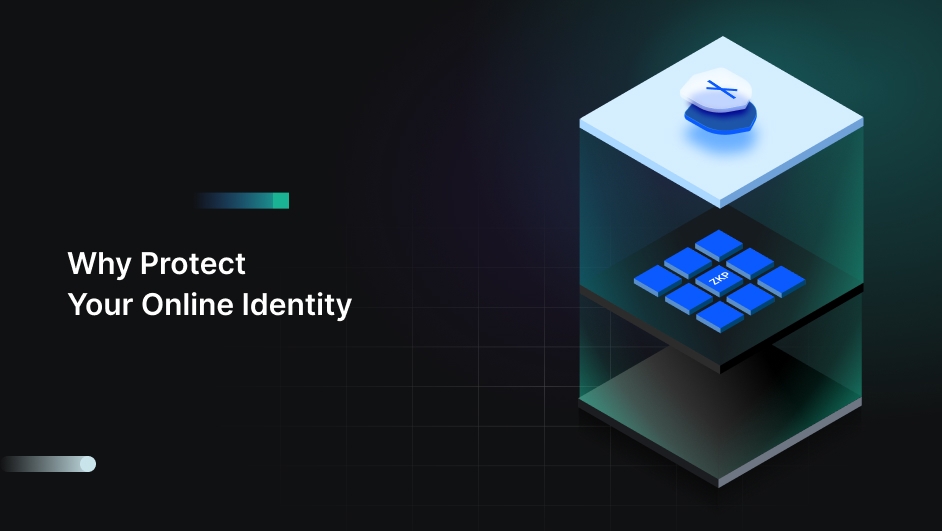 Sign-Up Program Overview: Unlock Exclusive Benefits
The AesirX New Member Sign-Up Program is intended to empower participants in the Web3 ecosystem. It is only available to the first 2,500 people who sign up. By joining, you gain access to a variety of exciting perks and benefits:
Secure WEB3 ID:  Your Shield of Privacy ID serves as a gateway to the decentralized web, providing decentralized identity. It allows you to interact with various platforms, as well as create, self-verify, and own your digital identity.
Free NFT:  As a program participant, you can mint NFT for free. Owning an NFT gives you exclusive rights and authenticity over your digital possessions.
Consent + Data Ownership:  Shield of Privacy gives you complete control over your data. You can grant or revoke consent for the use of your personal information, ensuring that your data remains private and secure.
Web2 + Web3 Single Sign-On:  With Shield of Privacy, you can use a single set of credentials to log in to both traditional web services (Web2) and decentralized platforms (Web3), saving you the hassle of managing multiple accounts.
$CCD tokens:  Each participant in the Sign-Up Program will receive 100 $CCD tokens.  These tokens can be used to create or mint free NFTs and gain access to exclusive features within the AesirX ecosystem. 
$AESIRX tokens:  Participants will receive 100 $AESIRX tokens in addition to the $CCD tokens. $AESIRX tokens are the native currency of the AesirX ecosystem. By holding these tokens, you become a member of a growing community and gain access to their various uses within the ecosystem. These tokens will increase in value in the future and can be used for a variety of purposes, enhancing your digital asset portfolio.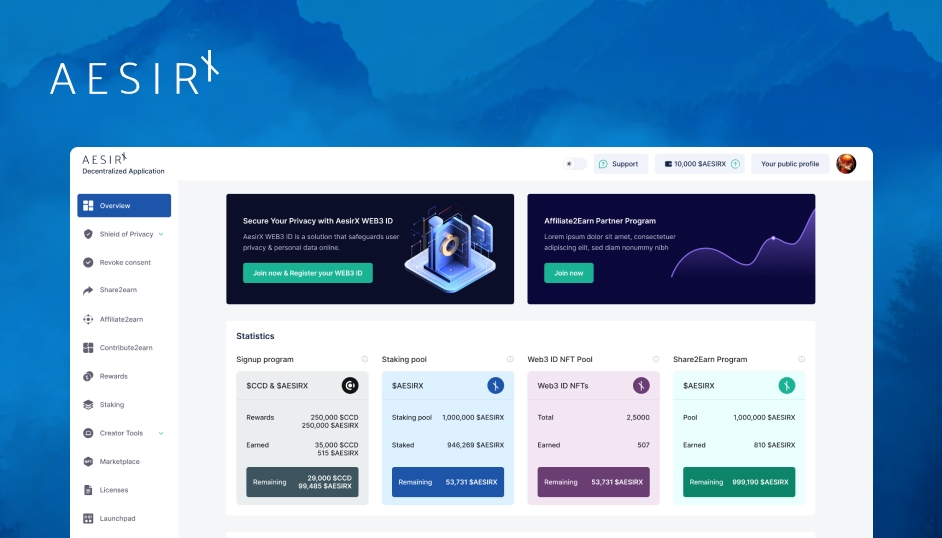 How to Join the New Member Sign-Up Program
Joining the New Member Sign-Up Program is a simple (and rewarding) way to secure your digital identity. Visit our website and complete the registration form https://shield.aesirx.io/. Because space is limited, pre-register and meet the eligibility criteria to secure your spot among the early program participants.
Here are simple, step-by-step instructions:
Step 1: Register & Activate your Shield of Privacy ID
Sign up for an account at https://shield.aesirx.io/ 
Check your email and follow the instructions to activate your Shield of Privacy
Step 2: Register on Concordium and Set up your Concordium Wallet
Create an account and complete ID verification on Concordium's registration page.
Download the Concordium Wallet from https://concordium.com/wallet/ and follow the instructions.
(Skip this step if you already had a Concordium Wallet)
Step 3: Connect Concordium Wallet to Shield of Privacy
Step 4: Upload Your Profile Image
Step 5: Select Your Interests
Personalize your online experience by selecting your interests, such as topics, hobbies, or areas of expertise.
Step 6: Claim 100 $CCD and whitelist for minting
Claim your 100 $CCD rewards and set aside around 30 $CCD to fund and prepare for minting.
Step 7: Provide Consent and get 100 $AESIRX
Give access consent for Shield of Privacy to know your interests.
Claim your 100 $AESIRX rewards.
Step 8: Join the Share2Earn community program 
If you've successfully signed up for AesirX Shield of Privacy, you can now earn more tokens by participating in our Share2Earn program.
Own Your Data: Create a free NFT with AesirX!
The AesirX New Member Sign-Up Program enables you to protect your online identity while also receiving exclusive benefits. By creating your Shield of Privacy, obtaining a free NFT, earning CCD tokens, and enjoying $AESIRX token rewards, you take proactive steps toward securing your digital presence. 
Be a part of the future of decentralized technology. Sign up now for a secure online identity and dive into the exciting world of Web3.